On 17 April, U.S. Vice President Mike Pence visited Latshaw Drilling Rig 45 in Midland, Texas, drilling for Diamondback Energy. In his prepared remarks, Vice President Pence noted, "It's amazing to think what we can accomplish here in West Texas if we continue to unlock the incredible potential of the Permian Basin. Eighty-six thousand square miles hold 20 of the nation's top 100 oil fields. And by 2023, I'm told they'll produce 5.4 million barrels per day. That's more than any area of the world other than two different countries. More than any single member of OPEC other than Saudi Arabia. That is energy dominance. That's American leadership."
The Vice President also recognized the work done by those working on the rig, attributing the success of the Permian Basin to those drilling in the region.
"We were honored to have VP Pence as a guest on our rig. His visit is a testimony to the support our industry is getting from this Administration and how important our industry is to our economy, our military and our national security," said Trent Latshaw, President, Latshaw Drilling Co.
Alongside Secretary of the Interior David Bernhardt and Railroad Commission of Texas Chairman Christi Craddick, Vice President Pence also said, "I really did want to come out here just to tell you how much the President and I support the work that you're doing every day and how inspired we are and the American people are with the incredible progress that's being made in the Permian Basin. ….And make no mistake about it: As we work to strengthen the foundations of this country, we have a President, you have a Vice President, that understands that our natural resources are central to American greatness."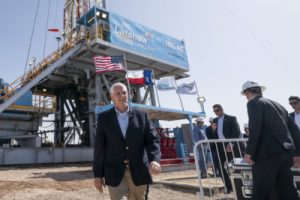 Vice President Mike Pence visits Latshaw Drilling Rig 45 in Midland, Texas on 17 April. Official White House Photo by D. Myles Cullen