Drilling Contractor Magazine
Official Magazine of the International Association of Drilling Contractors, Drilling Contractor exclusively focuses on drilling and completions, covering both land and offshore. Our nearly 32,000 subscribers are all professionals in the global drilling and completion industry with 38.3% of subscribers E&P companies employees and 36.2% drilling contractors. Drilling Contractor's editorial scope includes technology, markets, HSE&T, and regulations.
DC's website, dedicated to all things drilling and completions, offers features, news articles and exclusive videos to help readers keep up with the newest trends in the industry. DC continues to offer enhanced editorial to complement the print magazine, including animations, videos, additional graphics and content.
Sign Up for a Free Subscription to Drilling Contractor
Employees and executives of contract drilling companies, oil producing companies, oilfield service firms, and oilfield equipment manufacturers qualify for free subscriptions to IADC's official magazine Drilling Contractor. Complimentary subscriptions are also available to students.
If your employer does not fit one of the above categories, you may order a paid subscription to Drilling Contractor Magazine.
Read Drilling Contractor Online with the Digital Reader Edition!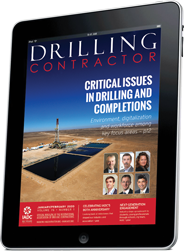 DC's Digital Reader offers entire issues as fully interactive digital magazines. DC's Digital Reader is a faithful recreation of the printed magazine in digital form!
Digital Reader can be viewed on an iPad or Android tablet, and/or your Windows or MacOS computer. Swipe through pages (click + drag on a computer), or zoom in by double-tapping (or clicking) the page itself. Once zoomed in, you can read the articles in-depth and turn pages by clicking the left and right arrows. To zoom out, double-tap (or click) again.