Students of the recently established IADC Student Chapter at the University of Wyoming were recently invited to tour Patterson-UTI Rig 901 working east of Fort Collins, Colorado.
IADC Rocky Mountain Chapter Chairman Lannie Fladeland with Patterson-UTI coordinated the rig tour through the Student Chapter officers and Dr. Brian Toelle with the University's Petroleum Engineering Department.
The students were divided into three groups, with Drilling Superintendent Jerry Stolz, Rig Manager Sean Layne and Safety Director Kyle Peltz conducting the safety briefings and rig tours. After an in-depth overview of the operation, rig equipment and technology associated with Rig 901, the group was treated to lunch and a Q&A session which focused on political, environmental and strategic issues around E&P operations, along with the unlimited career opportunities available to the students.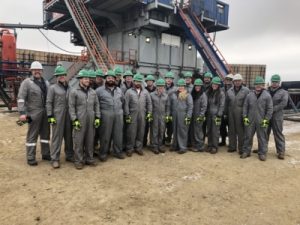 Students from the University of Wyoming IADC Student Chapter participate in a tour of Patterson-UTI Rig 901 in Fort Collins, Colorado.