On 26 April, the IADC North Sea Chapter recognized the best in safety performance at it's annual Safety Awards Ceremony. The award for best safety performance in the jackup category was awarded to Borr Drilling, with Noble Drilling as the runner-up. Diamond Offshore was recognized in the floating rig category with Stena Drilling as the runner-up. The winner for platform drilling was KCA Deutag.
Chairman's Awards, which recognize individual rigs and their crews with the best safety performance, went to Maersk Invincible, Maersk Drilling; Deepsea Bergen, Odfjell Drilling; and Oseberg B, KCA Deutag. The Associate Member award was presented to Westerton Access and the Chairman's Special Award to Jason McGettigan with Rowan Drilling.
For more information about the North Sea Chapter, please visit the IADC Website.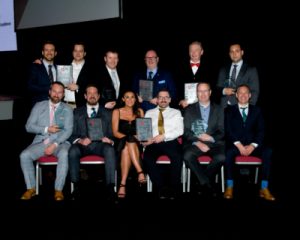 IADC North Sea Chapter Safety Award Winners and Runners-up 2019
Back Row (L to R): Andrew Hepburn and Louis Pietranek, Westerton Access; Brian Fleming and Jim Paterson, KCA Deutag; Ian Clubb, Diamond Offshore; Predrag Berlafa, Maersk Drilling
Front Row (L to R): Jason McGettigan, Rowan Drilling; Jason Pine, Borr Drilling; Laura Hart and Darren Richardson, Noble Drilling; Harald Tvedt and Donald MacLeod, Odfjell Drilling