The IADC North Sea Chapter recently donated 6,500 to the RNLI lifeboat station in Aberdeen. The RNLI volunteers provide 24-hour search and rescue services around the United Kingdom and Republic of Ireland coasts, operating more than 238 lifeboat stations and 240 lifeguard units. It is independent and depends entirely on voluntary donations and legacies to maintain its rescue service.
IADC North Sea Chapter vice chairman Gary Holman made the presentation to Aberdeen Lifeboat Operations Manager Bill Deans MBE on board the city's all-weather lifeboat Bon Accord.
During the check presentation, Mr. Deans said, "The IADC have been very generous over the years in supporting the RNLI's work of saving lives at sea in Aberdeen. This donation from the North Sea drilling industry will make a significant contribution to vital equipment and training for Aberdeen's volunteer lifeboat crews."
Mr. Holman also noted the Chapter's admiration for the volunteers who make the RNLI service possible.
The Chapter raised the funds for the donation during its annual Safety Awards event in April. During that event, the Chapter also presented a check for 5,000 to the UK Oil & Gas Chaplaincy Trust. The Chapter will host a charitable golf tournament on 21 June to raise money for Charlie House, a local charity supporting children with serious and life limiting illnesses.
For more information about the IADC North Sea Chapter, please visit the IADC website.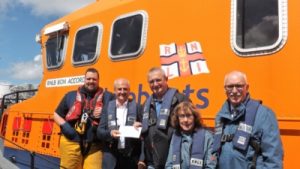 Gary Holman (centre left), vice chair of the IADC North Sea Chapter presents the £6,500 donation to Bill Deans MBE, Aberdeen lifeboat operations manager (centre right), with Aberdeen Lifeboat 2nd coxswain/mechanic Cal Reed (left), IADC administrator Edith McLeod and IADC North Sea director Derek Hart (right) looking on.