IADC provides association updates, drilling industry news, the latest trends, featured articles, and exclusive videos to the worldwide oil and gas industry.
Connect with IADC
Follow IADC on social media to stay up to date on IADC news and events.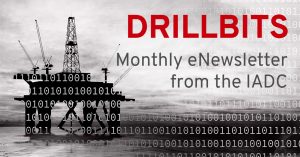 Subscribe to DrillBits
Stay informed by signing up for IADC's monthly electronic newsletter.
Drilling Contractor Magazine
The official magazine of IADC, Drilling Contractor has exclusively covered the global drilling and completion industry for more than 75 years.