The Association is governed by its Board of Directors, comprised of employees of Drilling Contractor member companies who are elected annually. Responsibilities include confirming annual appointment of IADC's Officers, reviewing significant organizational changes, and approving annual budget.
The Executive Committee consists of up to 21 Directors and leads the overall direction of the Association, including objectives, structure and operations, making recommendations to the Board of Directors as needed.
Advisory Panels are formed to evaluate issues affecting Members and report those issues to the Executive Committee for consideration and action.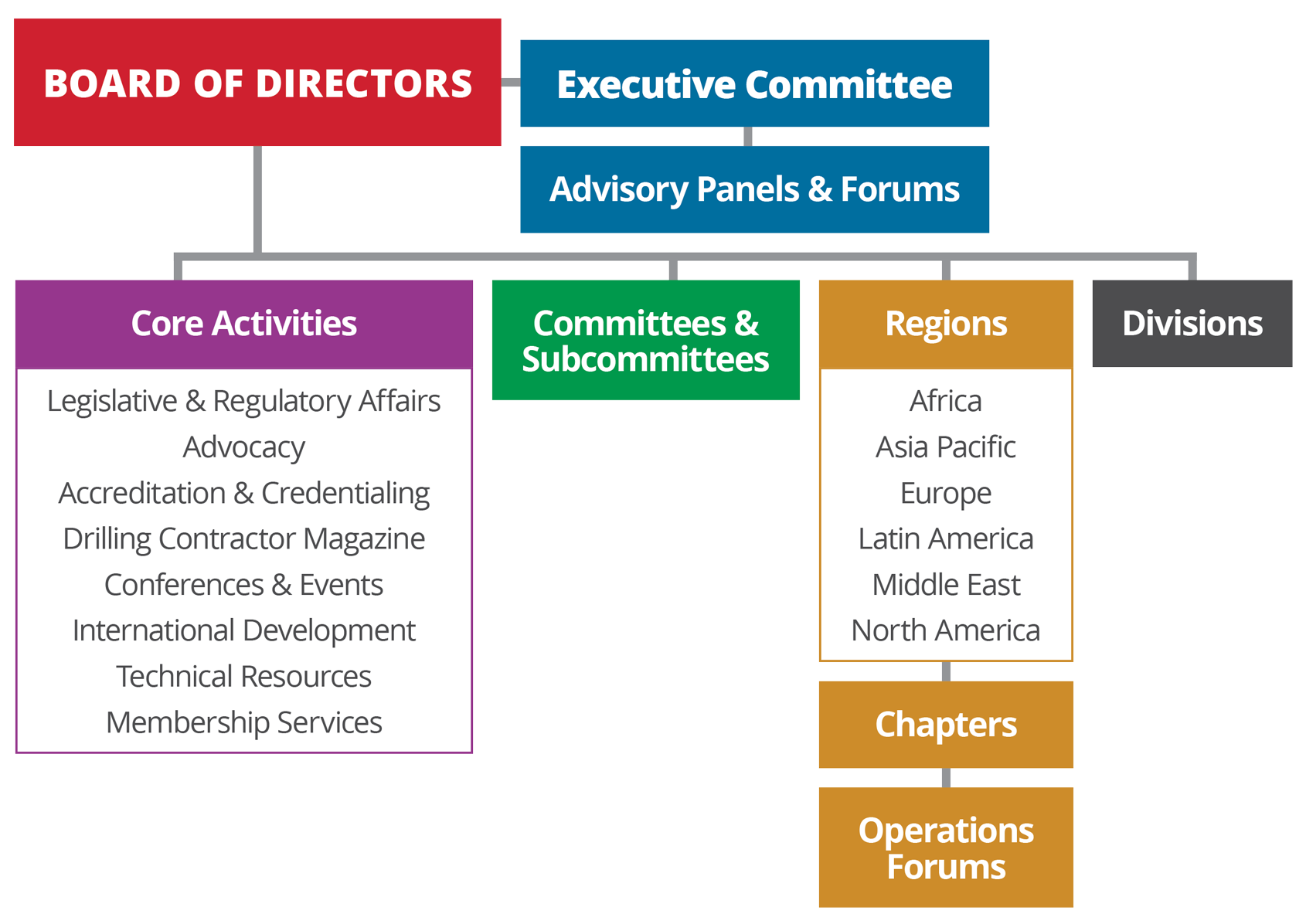 IADC Officers & Executive Committee
2023 IADC OFFICERS
ANDY HENDRICKS, CHAIR

Patterson-UTI
Mr. Hendricks has served as President and Chief Executive Officer of Patterson-UTI since October 2012 and as a director of Patterson-UTI since June 2017. From April 2012 through September 2012, he served as Chief Operating Officer of Patterson-UTI. From May 2010 through March 2012, Mr. Hendricks served as President of Schlumberger Drilling & Measurements, a division of Schlumberger. Prior to that date, Mr. Hendricks worked for Schlumberger in various worldwide locations and capacities since 1988, including serving in numerous executive positions since 2003. Mr. Hendricks is a past Chair and member of the Executive Committee for the International Association of Drilling Contractors and a member of the Society of Petroleum Engineers. Mr. Hendricks holds a Bachelor of Science in Petroleum Engineering from Texas A&M University.

LEIF NELSON, VICE CHAIR

Seadrill
Leif Nelson has served as Seadrill Management's Executive Vice President and Chief Operating and Technology Officer since June 2015. Mr. Nelson has been with Seadrill since 2011 and he has over 25 years' experience in the drilling industry.
Prior to joining Seadrill, Mr. Nelson held various operational positions around the globe for Transocean Ltd. Mr. Nelson is a graduate of the Colorado School of Mines with a BSc in Petroleum Engineering. Mr. Nelson is a US citizen and resides in the United Kingdom.

JEREMY THIGPEN, PAST CHAIR

Transocean, Ltd.
Mr. Thigpen joined Transocean as the company's CEO in April 2015. He previously served as Senior Vice President and Chief Financial Officer at National Oilwell Varco, where he spent 18 years. During his tenure at NOV, Mr. Thigpen spent five years as the company's President of Downhole and Pumping Solutions business and four years as President of its Downhole Tools group. He also served in various management and business development capacities, including Director of Business Development and Special Assistant to the Chairman. Mr. Thigpen earned his Bachelor of Arts in Economics and Managerial Studies from Rice University and completed the Program for Management Development at Harvard Business School.
SCOTT MCREAKEN, SECRETARY/TREASURER
Northern Ocean Ltd.
Mr. Scott McReaken was appointed Chief Executive Officer of the Northern Drilling and Northern Ocean Groups in December 2018. Prior to this appointment Mr. McReaken has been a part of the Seadrill group companies since 2012, where he served as Chief Executive Officer and Director of Sevan Drilling Ltd and Chief Financial Officer of North Atlantic Drilling Ltd.
Mr. McReaken has almost 20 years of experience in the offshore drilling industry, which includes various leadership roles in the United States, North Sea, West Africa and South America. Mr. McReaken began his career at Arthur Andersen LLP and is a Certified Public Accountant and Certified Internal Auditor.
He holds a degree in business administration from The University of Texas at Austin and is a US citizen residing in Houston, Texas.
TIM McGARITY, DIVISION VP DRILLING SERVICES

NOV

Tim McGarity is the Director, Western Hemisphere Offshore at NOV's Rig Technologies. During his tenure with NOV Mr. McGarity has worked both land and offshore in operations and business development.
Prior to coming to the oilfield Mr. McGarity worked in international shipping for CP Ships, as the manager of the their Government/Military team. Mr. McGarity earned a Bachelor of Science from Texas A&M Galveston, and is a veteran of the United States Marine Corps.
MIKE GARVIN, DIVISION VP NORTH AMERICA ONSHORE

Patterson-UTI

Mike Garvin is the Sr. Vice President, Operations at Patterson-UTI Drilling Company. Prior to joining Patterson-UTI, Mr. Garvin worked for Ensco as the Sr. Deepwater Operations Manager overseeing the construction of a fleet of deep-water semisubmersible rigs in Singapore and then starting up and managing operations in various locations around the world. Prior to that, Mr. Garvin spent twenty seven years with GlobalSantaFe and its predecessor and successor companies (Global Marine & Transocean) holding various operations and support leadership positions.
Mr. Garvin earned a Bachelor of Science degree in Engineering from California Polytechnic State University, graduating in 1994. Mr. Garvin has accumulated a total of forty-three years of experience in the upstream sector of the energy business, exploring and drilling for oil, gas & geothermal energy both on land and offshore.
Mr. Garvin has been an active member of the IADC for the past 20 years serving as an Executive Committee Member, North America Onshore Division Chair, Well Control Committee Chair, HSE Committee Chair and DRILLERSPAC Trustee.
BRIAN WOODWARD, DIVISION VP OFFSHORE
Noble Corporation
Mr. Woodward is the Vice President of Corporate Services at Noble Corporation. In this capacity he manages the company's Human Resources, Information Technology, Supply Chain, and HSE functions. Mr. Woodward previously served as Noble's Global Operations Manager and has held various domestic and international roles in Operations, Marketing, Investor Relations, Human Resources, and HSE since joining the company in 2002. In addition to his role as IADC Division Vice President Offshore, he serves on various committees for both IADC and SPE.
Mr. Woodward graduated with a BBA in Management from The University of Texas at Austin and received an MBA in Oil and Gas Management from Robert Gordon University in Aberdeen.
MIGUEL SANCHEZ, DIVISION VP INTERNATIONAL ONSHORE

Nabors Drilling International Ltd.

Miguel is currently the Vice President, International Operations for Nabors.
Miguel has over 25 years of experience in the Oil & Gas industry; he has had the opportunity to work in several geographies around the globe as well as multiple disciplines within the industry. Miguel started his career with BP in Venezuela in 1997 as a commercial analyst before moving to the United States where he held several roles in downstream & upstream segments for BP. Miguel then moved to the services industry he worked for Key Energy Services, Saxon Energy Services based out of Bogota Colombia, Parker Drilling in USA and UAE;. His last job before joining Nabors was VP, Weatherford Drilling International In Dubai
Miguel has a Bachelor's in Business Administration, a Finance Graduate program from Universidad Metropolitana in Caracas, Venezuela and a Master degree from Arthur D'little School Of Management.
2023 Executive Committee
ANDY HENDRICKS, Patterson-UTI Energy Inc., Houston, Texas
ANTON DIBOWITZ, Valaris plc, Houston, Texas
BERNIE WOLFORD, Diamond Offshore Drilling, Inc., Houston, Texas
BRIAN WOODWARD, Noble Corporation plc, Sugar Land, Texas
BRAD JAMES, Enterprise Offshore Drilling, Houston, Texas
CHRIS MENEFEE, Unit Drilling Company, Oklahoma City, Oklahoma
JEREMY THIGPEN, Transocean Ltd., Vernier, Switzerland
KEVIN NEVEU, Precision Drilling Company, Houston, Texas
LEIF NELSON, Seadrill Management, London
MANAV KUMAR, Dynamic Drilling, Dubai, UAE
MIGUEL SANCHEZ, Nabors Drilling International Ltd., Houston, Texas
MIKE GARVIN, Patterson-UTI Drilling Company LLC., Houston, Texas
PAUL MOSVOLD, Scandrill, Inc., Houston, Texas
ROBERT EIFLER, Noble Corporation plc, Sugar Land, Texas
RODDIE MACKENZIE, Transocean Ltd., Houston, Texas
ALEXANDER "SANDY" ESSLEMONT, Parker Wellbore, Houston, Texas
SCOTT MCREAKEN, Northern Ocean Ltd., Houston, Texas
SHANE MARCHAND, Helmerich & Payne Inc., Tulsa, Oklahoma
SIGGI MEISSNER, Nabors Industries Ltd., Houston, Texas
TIM MCGARITY, NOV, Houston, Texas