Mark Denkowski promoted to IADC VP-Accreditation & Certification Programs
Houston, 9 January, 2012 – IADC's Mark Denkowski has been promoted to Vice President of Accreditation and Certification Programs. He joined IADC in April 2011 as Managing Director.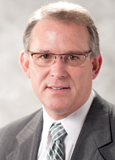 Mr Denkowski will remain in charge of all Accreditation and Certification activities, including researching and developing new market opportunities and products. He continues to direct the operations of IADC accreditation programs, program development and implementation, general communications, administration and quality control. IADC's Accreditation and Certification Programs is ISO 9001 certified, and oversees accreditation through WellCAP, Rig Pass, Competency Assurance and Drilling Industry Training. The department is also involved in the STEPS Network and OSHA initiatives.
"Mark brings a wealth of practical, drilling industry experience to IADC," said Dr Lee Hunt, President of IADC. "His extensive background in drilling industry training will serve him well in leading our skilled accreditation team to provide ever-better services and programs for our members."
Mr Denkowski has over 30 years of industry experience. Offshore he has worked in Southeast Asia, the Middle East and West Africa for Smedvig Asia, Santa Fe and GlobalSantaFe. Onshore, Mr Denkowski has worked for GlobalSantaFe as an International Employment Manager, for Transocean as North American Employment Manager, and most recently as the Training & Development Manager for Frontier Drilling. While with Frontier Drilling, Mr Denkowski was a member of the IADC Training Committee and Chairman of the IADC Competency Assurance Panel. He has a BS degree in Earth and Mineral Science from Pennsylvania State University.
About IADC
IADC is dedicated to enhancing the interests of oil-and-gas and geothermal drilling contractors worldwide. IADC's contract-drilling members own most of the world's land and offshore drilling units and drill the vast majority of the wells that produce the planet's oil and gas. IADC's membership also includes oil-and-gas producers, and manufacturers and suppliers of oilfield equipment and services. Founded in 1940, IADC's mission is to improve industry health, safety and environmental practices; advance drilling and completion technology; and champion responsible standards, practices, legislation and regulations that provide for safe, efficient and environmentally sound drilling operations worldwide. IADC holds Accredited Observer status at the International Maritime Organization and the International Seabed Authority, specialized agencies of the United Nations. The Association is a leader in developing standards for industry training, notably its Well Control Accreditation Program (WellCAP)® and rig-floor orientation program, RIG PASS®. IADC is headquartered in Houston and has offices in Washington D.C., the Netherlands, Thailand, and the United Arab Emirates, as well as chapters in the UK, Venezuela, Brazil, Australasia, South Central Asia, Southeast Asia, the Middle East and across the United States. For more information, visit the IADC website at www.iadc.org.